Workspace Team Setup/Manage How to Set up Your Workspace Team and Users. Work as a team to manage groups, companies, and clients.
Setup your Workspace Team by clicking the gear icon in the upper right of the Workspace. This is only viewable by the Workspace owner.
The workspace owner must add all Team Members that you want to have access to a group of companies or a single company.
Note: Clients are added separately to each company to give them access to the client portal.
Once the workspace owner adds all of the team then each team member will only be able to view the groups and individuals companies they have access to.
All Team Members can:
Create New Groups/Folders
Connect/Manage companies
Allow other team members access to a group or single company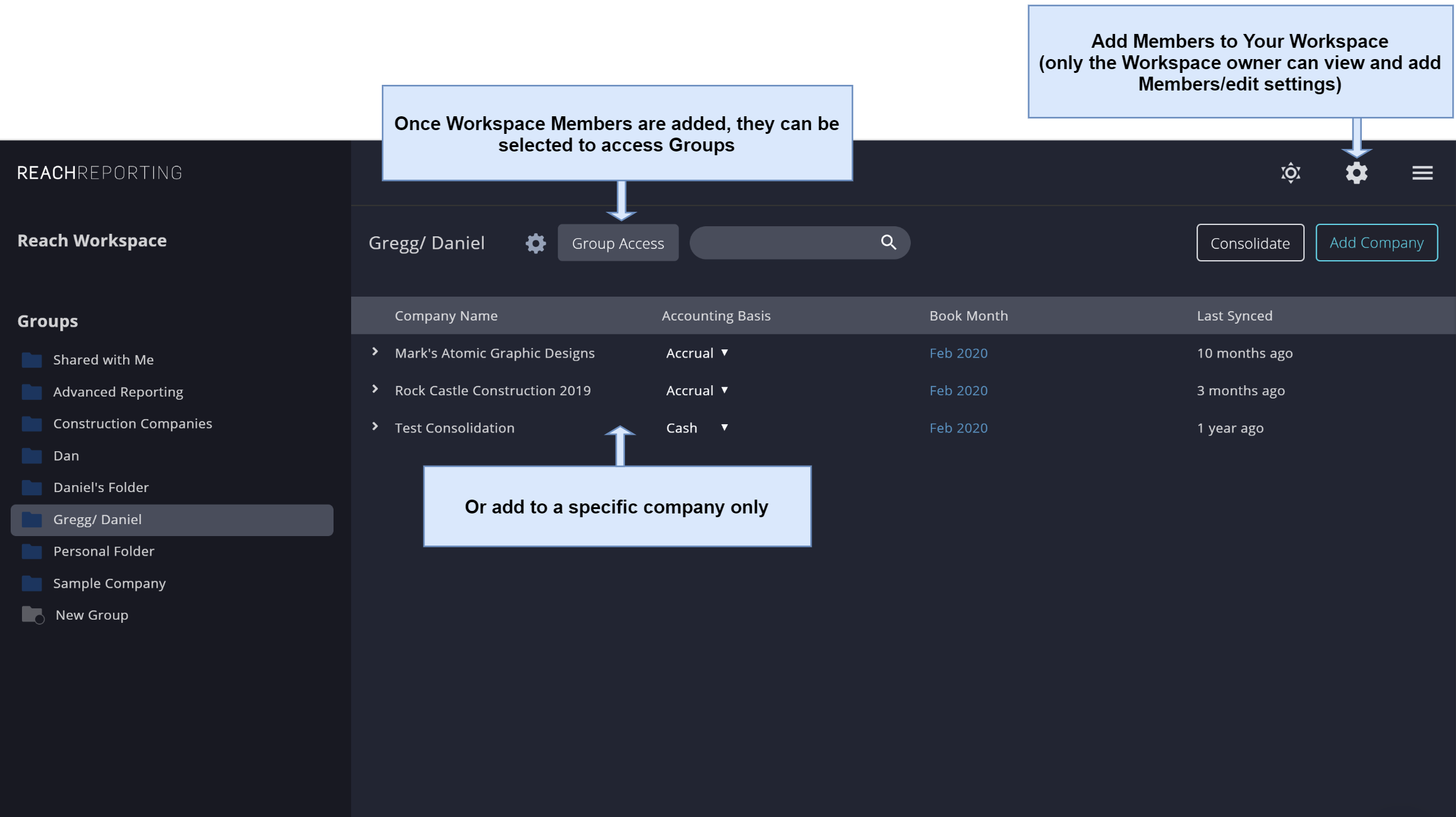 To add a Team Member to a group, click the Group Access button on any folder. These team members can then add companies to the group they have access to.

To add a Team Member to a single company, click the company name and it will expand and then click "Additional Users" to add them. This will show up in their Shared with me folder. The shared his is only used when an individual company is shared with you.
Creating a New Group
Under your current group list, just click on "New Group" and start typing. Hit "Enter" or "Return" on your keyboard when done and this will create the group.
Deleting/Renaming a Group
In order to delete a group, click on the gear icon once all companies have been removed from that group. You cannot delete the "Shared with me" group.
Billing and Subscription
Billing is still tied to the Owner of the Workspace. Only they can see the Workspace Settings.
To learn about the Client Portal go to: https://knowledge.reachreporting.com/workspaces-and-client-portal
Did this answer your question?