QuickBooks Desktop Integration Connecting to QuickBooks Desktop and Syncing
QuickBooks Desktop Integration with Reach Reporting
To connect a QuickBooks Desktop company for the first time or when you are wanting to re-sync that company, you will need to open the Desktop Connector.
For a NEW COMPANY Select "Add Company" and then choose QB Desktop.
Step 1: Download / Open the Desktop Connector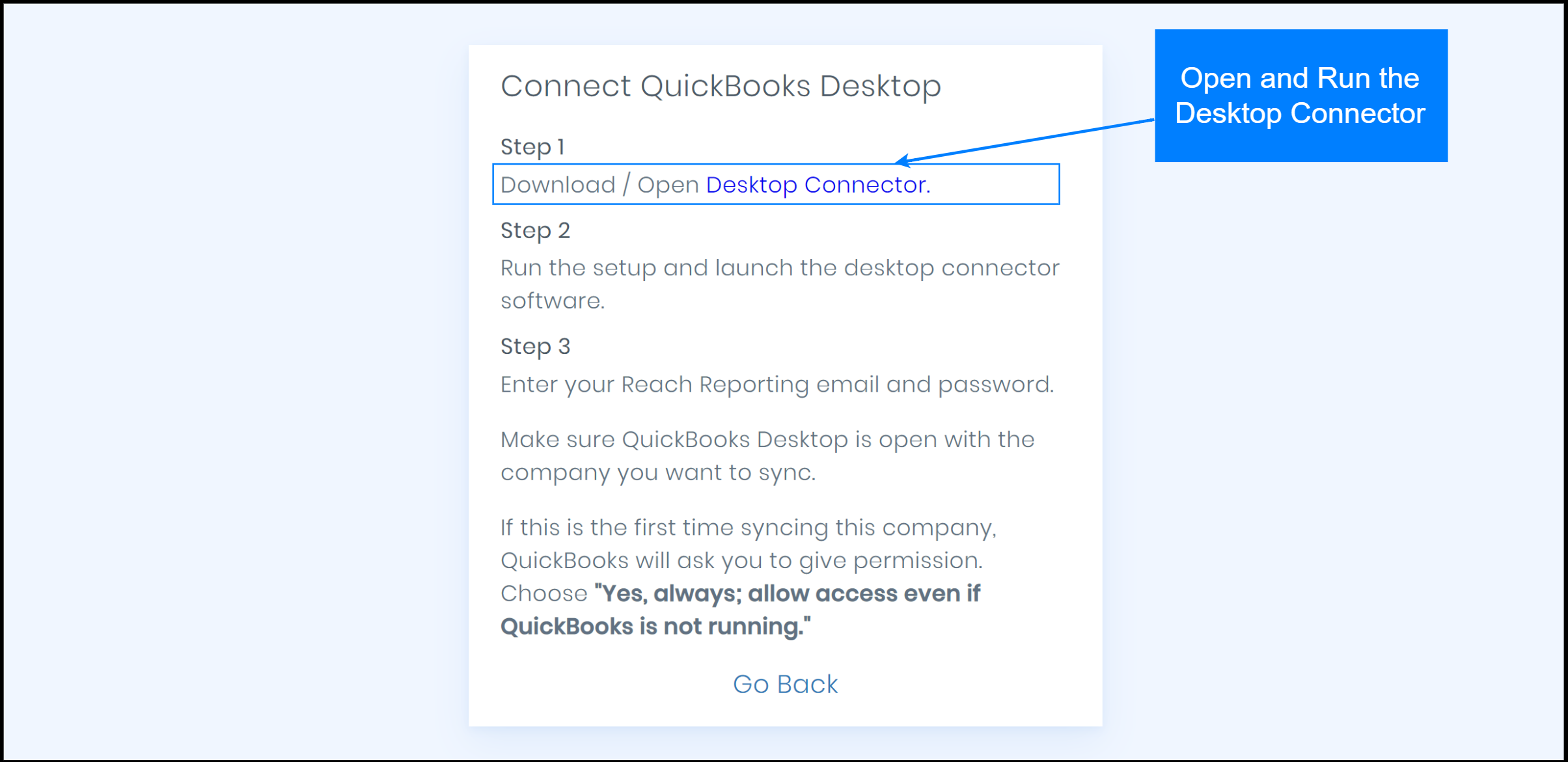 Step 2: Run the setup and launch the desktop connector.
Step 3: Enter your Reach Reporting email and password.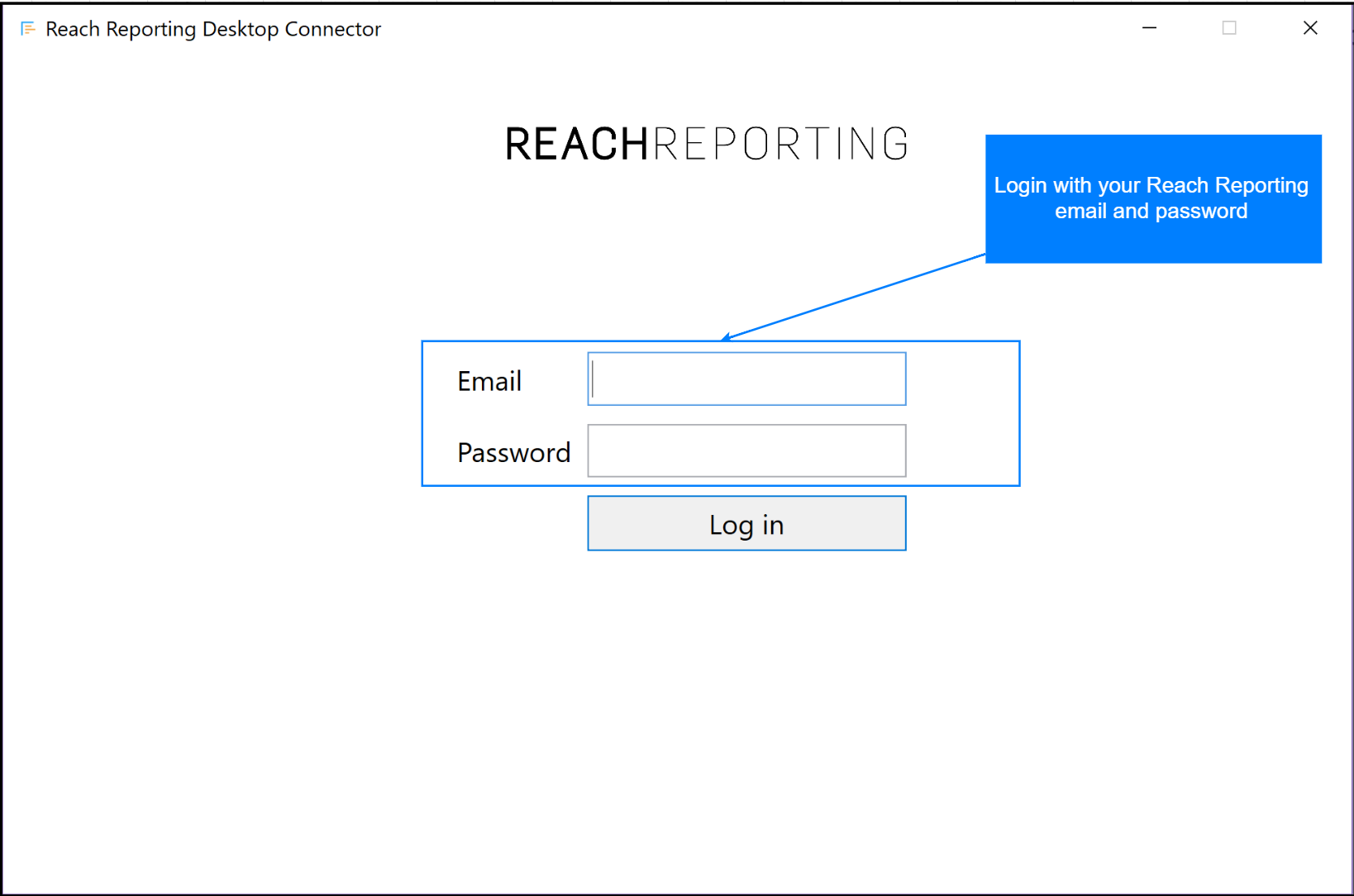 Once logged in, you can sync existing companies, adjust settings for syncing, or add a new file.
Make sure when you are first syncing that you must be logged in as the ADMIN.
SETTINGS:
When syncing the time it takes will be increased when you sync classes, vendors, customers.
Make sure to sync Inactive Accounts if you are using financial reports that include a date range that may include accounts that have been made inactive within your QuickBooks Desktop File.
Note: Sync only last 6 months is to shorten the sync time and is best to be used when you are syncing frequently.
Note: Start connector on startup refers to when you restart your computer.
When you "Add File" you must have the file location on your computer or server and have that company file open. It must be the only company file open. You must also have admin user privileges to sync.
Intuit will have you authorize the connection to Reach Reporting. We recommend selecting "Yes, always..."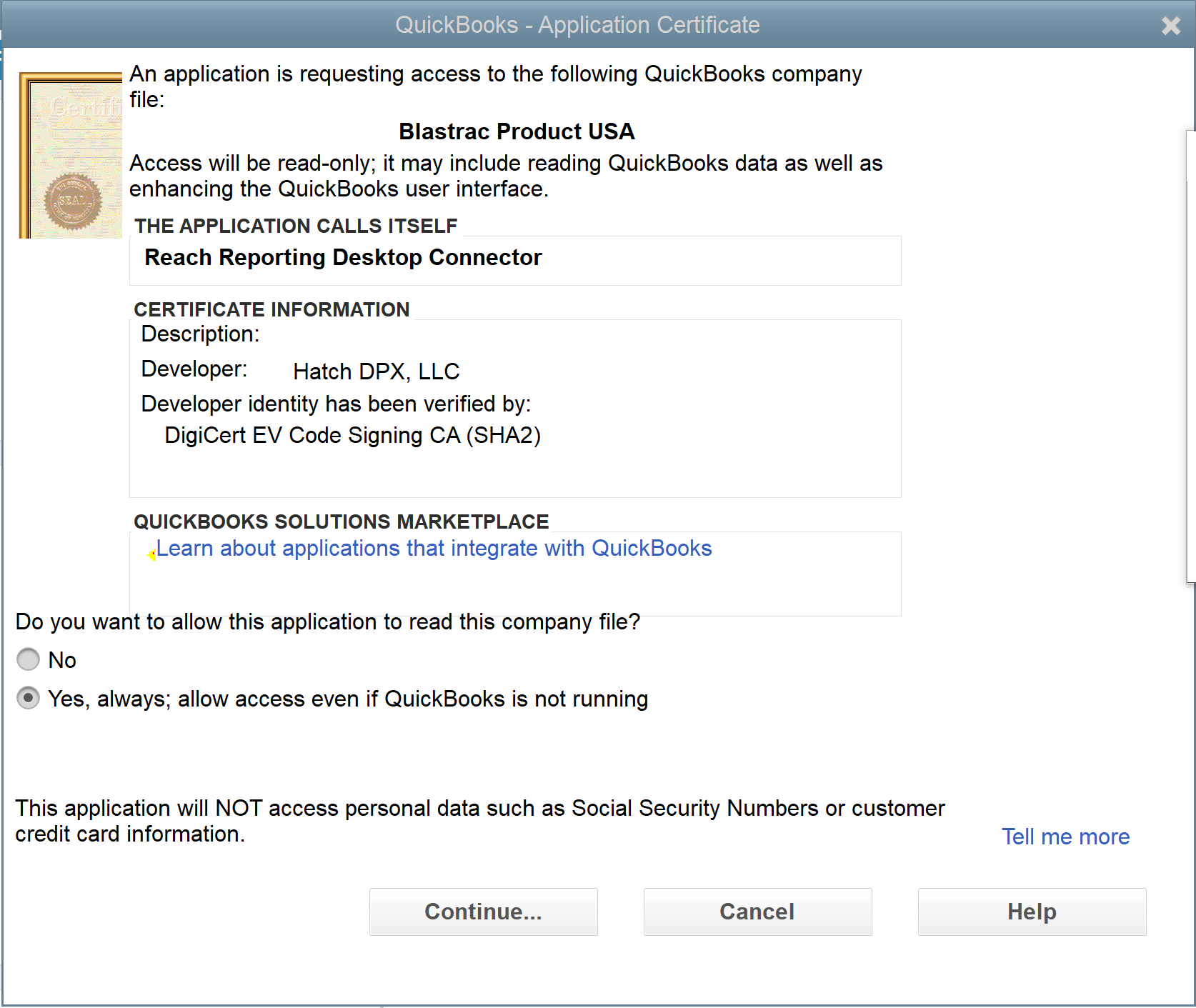 Once authorized, the desktop connector will begin syncing automatically. Make sure you navigate back to the "Workspace Home" area using the menu when you sync a new company. Refresh your browser and the company should appear within the group you chose to add the file to.
After syncing is complete, make sure you refresh your web browser to ensure all the data is updated in the software.
When you sync multiple desktop files, QuickBooks Desktop must be closed.
To sync just a single file, make sure QuickBooks Desktop has ONLY that company open. There must not be a second company file open.
These are restrictions that Intuit has in place that Reach follows to be allowed as a 3rd party integration. Reach only pulls data and does not push or update data within QuickBooks.
To disconnect: you can use the disconnect button next to the company name in the workspace or you can manage Integrated Applications for QuickBooks Desktop. This is done by going to "Edit" then "Preferences" then "Integrated Applications to see which applications are connected/allowed while having the QuickBooks Desktop file open.
Did this answer your question?