May 12, 2022
New Features May
Learn how to use the newly added Dashboard date override, and Excel export.
New Template Section
Check out our new template section to view templates you have created in Reach and Reach Default templates. Also, try the new search feature to quickly find the metric, dashboard, or report you are looking for.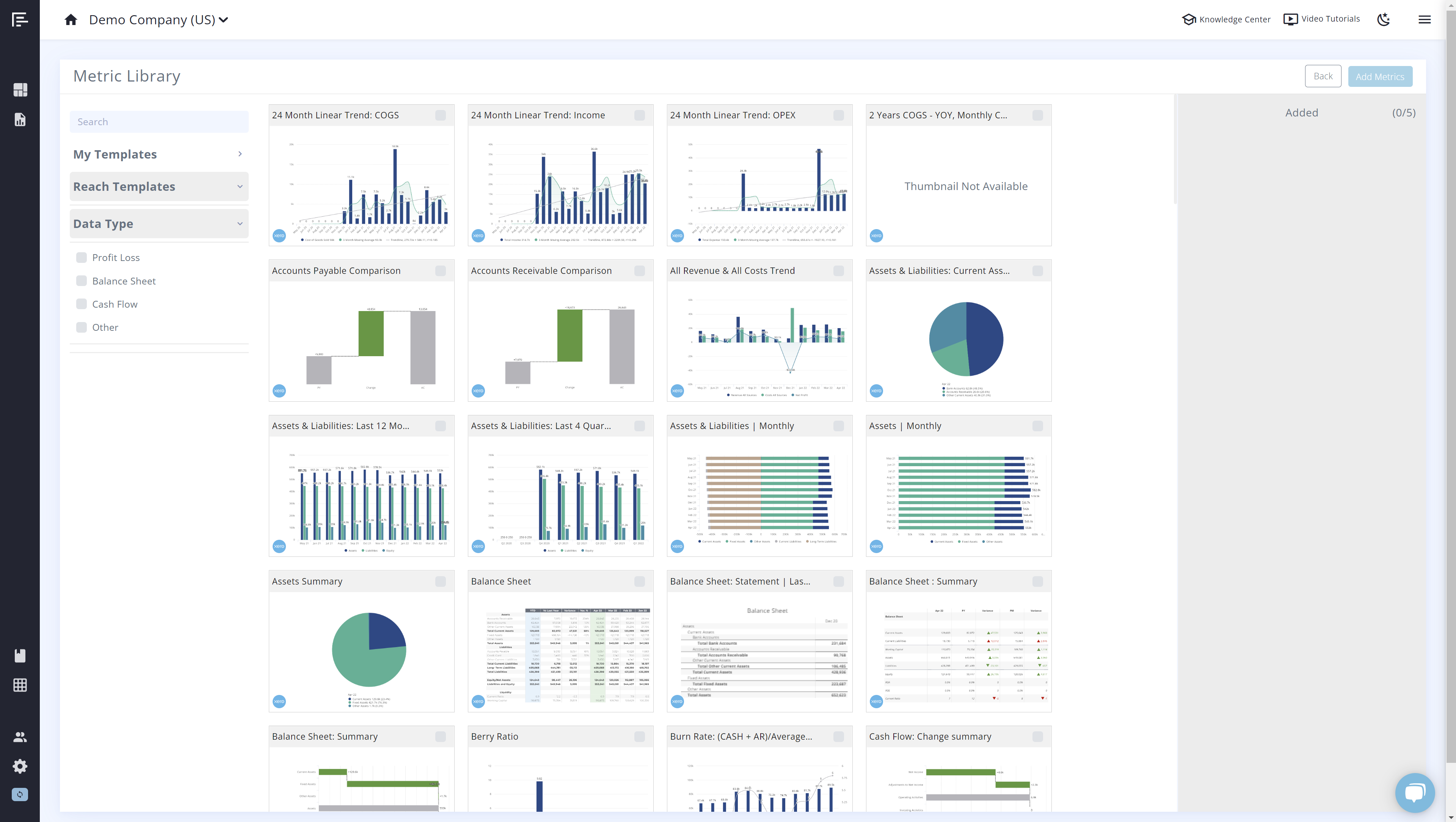 Hide Inactive Accounts on QBO
You can now hide inactive accounts for QBO so they don't show on statements.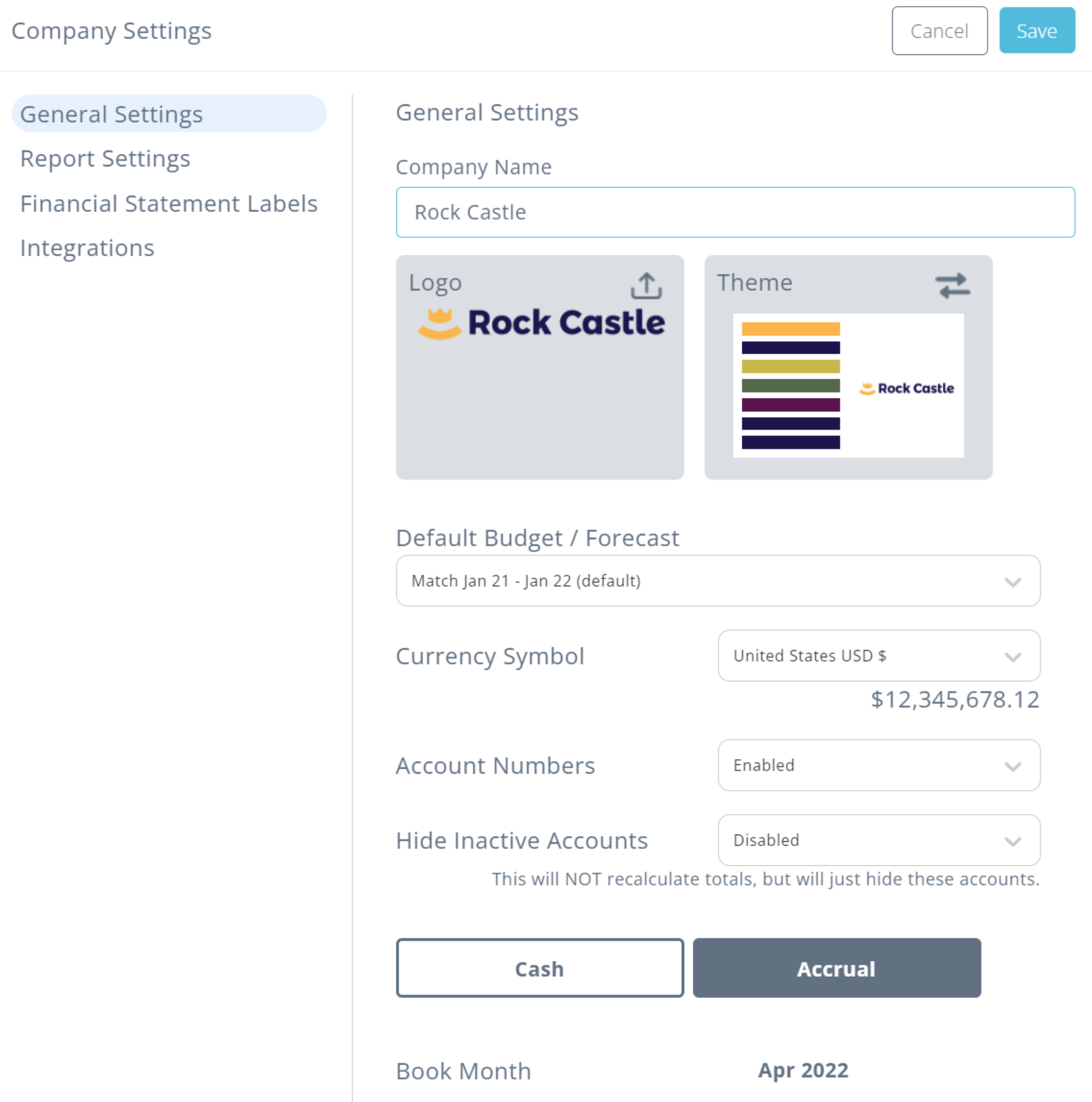 Negative Metic Color Formating
You can now enable negative color formatting for metrics.
---
March 22, 2022
New Features March
Learn how to use the newly added Dashboard Dividers, as well as how to use the export to excel feature within Dashboards and Reports.
Dashboard Client Portal and Publish Icons
Quickly see what dashboards you have published or included in the client portal with new icons on dashboards.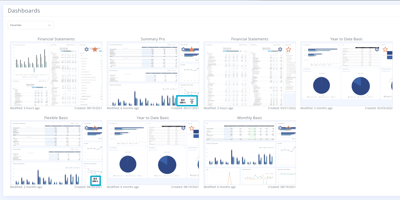 ---
February 16, 2022
New Navigation
New Title Tags
New book month title tags are now available.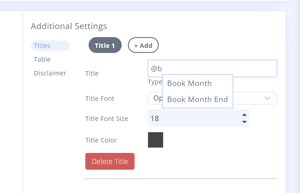 Overlap Value Labels
For when your data values disappear on your charts
Notice how some value labels are missing with this setting turned off.
---
November 19,2021
New Metric Data Type (ACTUAL V. FORECAST)
We have added a new column data type for actual vs forecast allowing you to quickly create metrics that use actuals and forecast, and change as your book month goes forward.
Account Number Toggle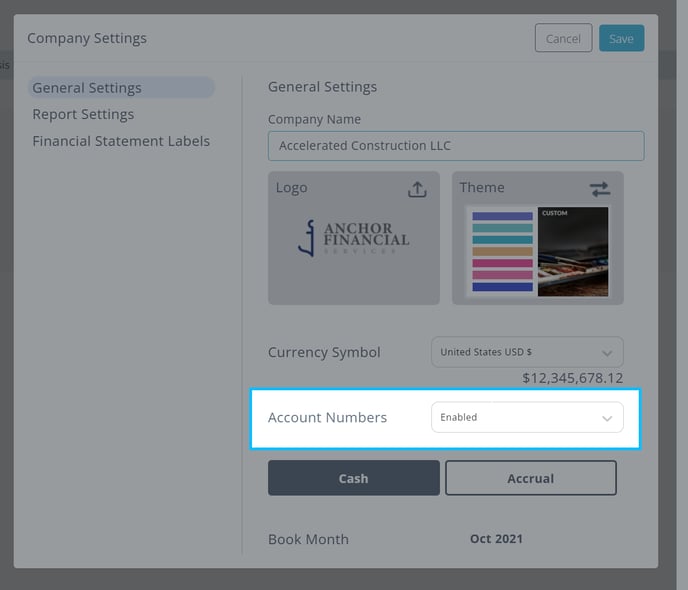 You can choose to have account numbers enabled or disabled for Quickbooks. This option can be found here in the company settings.
Set Company Default Budget
You can now set a company default budget in the company settings here: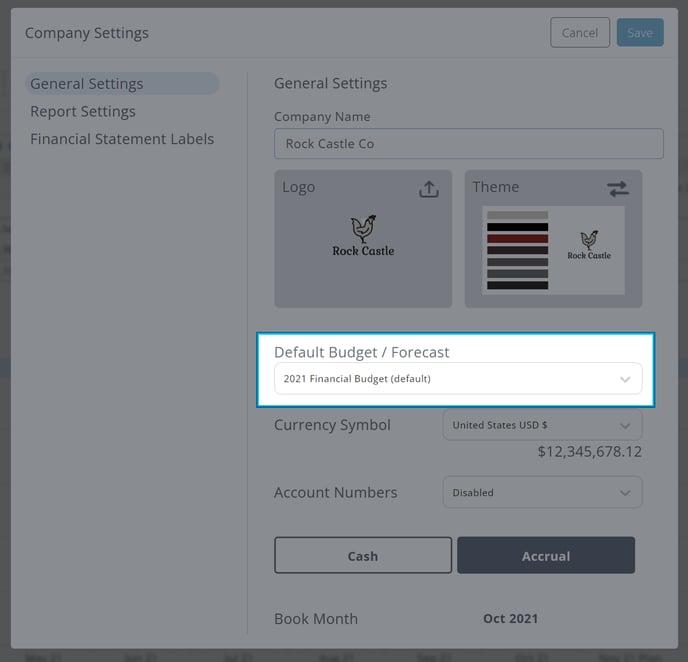 Updated Dashboard Embed Code
We have updated the code used to embed dashboards to make some minor enhancements. As well as allowing the change of dashboard background colors, to better blend in with your site or any place you embed your dashboards.
---
November 1,2021
New Client Portal
Smart Formula Column
Now when using formulas throughout a column in a locked statement it will copy formulas to new rows added via charted accounts in your bookkeeping software.
Locked Column Headers
Better Dashboard Scaling
New Google Sheets Update
You can now bring in more data using our google sheets integration.
---
September 1,2021
New Client Portal
---
August 16, 2021
New Features August:
Edit Metric in New Tabs
Now when editing a metric it will open a new tab helping speed up metric editing and help with version control, as only one user can edit the same metric at the same time.
Additional Table Metric Settings
Added new settings to table metrics that are familiar to the statement's additional settings.
Hide Data Labels on Trendlines
You can now hide data labels on trendlines helping make your charts more readable and more quickly digestible.
---
July 1st, 2021
New Feature: Trendlines
Trendlines are here make sure to check out the video below to learn how to use them.
---
May 12th, 2021
New Feature: More Striped Row Settings
We have added some additional settings for striped rows with for tables. Be sure to check them out in the metric builder.
New Feature: Company Settings
Check out the new company settings section.
---
April 13th, 2021
New Goal Line Settings
Check out some of the new features we have added when creating and adding goal lines to your metrics.
Introducing Live Table of Contents
We have added the ability to add a live Table of Contents to your reports watch the video below to learn how to this new feature.
---
March 2th, 2021
New Special Metrics
Special Metrics have been added as a new metric preset. These special metrics make it easy to create metrics base on Top Expenses, Top Customer, and other Top account Performer metrics.
Add Company Logos to Statements
You now have the ability to add company logos to statement pages next to the statement's title.
---
January 20th, 2021
New Waterfall Metric
We have added a new waterfall metric watch this short video to learn how to use this new metric.
---
January 12th, 2021
Area Charts

Now within the additional settings, you can change line charts to area charts within the data series settings. As well as adjust the opacity.
New Budgeting with Excel
We have added a new budget with Excel feature.
New Premium Reports
Make sure to check out the new premium report templates we have added. You can view them by going to reports and selecting add new report. All reports have been made to auto-populate with your bookkeeping data.
---
November 12th, 2020
Export To Excel for All Metrics and Statements
This new feature will allow you to quickly export any of your custom-built metrics or statements quickly to Excel. Exporting to excel will keep all your custom formatting and allow you to quickly use any statement, budget, or metric built within Reach to be used in Excel. To do this open any metric or statement to access the builder and click the new export to Excel button in the upper right.
---
November 6th, 2020
New Report Settings, Live Logos, and Always Visible Rows Settings.
New reports settings let you easily change and edit your company logo, company name, prepared by data, and disclaimer. We have also added live logos allowing you to easily include logos on a report without having to update them one by one. New visible row settings allow you to choose what rows are always visible even if you are hiding zero value rows.
---
October 30th, 2020
Updated Allowed Logo and Image File Types
Images and logos have to be of one of the following types which are the types allowed by Reach Reporting.
• BMP
• PNG
• PNG 8 bits
• JPG
• PNG Black and white
---
October 12th, 2020
NEW Updates October 12, 2020
This week we added these new features:
• Report Theme Color
• New Pie Chart Settings
• New Budgeting Tool
• Added New Video Tutorials Section
---
August 7, 2020
Conditional Formatting
Added New Conditional Formatting feature within metrics and statements.


---
July 24th, 2020
Google Sheets Integration. -BETA
Now connect google sheets data to use within Reach Reporting.
---
July 23rd, 2020
Budgeting/Forecasting, Right Click, Other Improvements.
Now you can create budgets and forecasts directly in Reach Reporting. Simply go to the Budget/Forecast icon located in the lower-left after opening a company.
---
July 14th, 2020
Edit in Full-Screen, Format Painting, Other Improvements.
Now anytime you edit a metric or statement you will have the ability to use full screen. Simply go to the upper right corner while editing and click the full-screen icon. To exit from full-screen click the icon again.
---
June 19th, 2020
New Financial Visual Reporting Templates
To access these financial visual reports, go to Reports and select "Create New" and then you will be able to access these templates.
---
June 5th, 2020
White Label Improvements for Reach Reporting
This week we added these new improvements to our white label:
• Filter Row by Class/Department
• Color Palette Enhancements