New Features March
Learn how to use the newly added Dashboard Dividers, as well as how to use the export to excel feature within Dashboards and Reports.
Dashboard Client Portal and Publish Icons
Quickly see what dashboards you have published or included in the client portal with new icons on dashboards.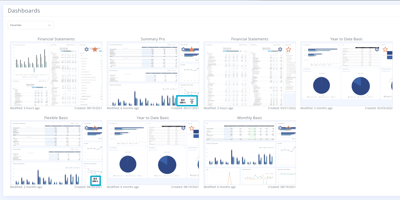 This month we have added a couple of new features.
The above video introduces you to each feature and helps you learn how to use them.
The first feature is Special Metrics. This is a feature we have been very excited to add.
Adding special metrics follows the same process as adding any other metrics, open a dashboard and click add a metric, then select presets from the drop-down. You can then filter by a special metric.
You will see a handful of presets we have created for you. Once you have added a special metric to your dashboard, edit it. This will take you into the familiar metric builder. The metric builder will have an added bar of dropdowns and settings underneath the metric's title.
These dropdowns and options will help you edit and create your special metrics.
The first drop-down will allow you to choose what kind of special metric you would like to build. The dropdown to the right of that allows you to choose the date range to generate the accounts that will be shown in the metric table below.
The next option to the right of the date range is where you can set how many Accounts you wish to show.
Continuing on, the last option lets you choose which accounts you wish to show, Parent accounts or sub-accounts.
That covers most of the basic Special metric creation settings. Unlike other metrics, you can not add any additional custom rows, but you can add additional columns allowing you to add custom formulations, such as a percentage formula like we have here.
Once you are finished creating and editing your special metrics, click save and close. This will take you back to the dashboard view.
On special metrics, we have added new Special Metric Filter Settings. When clicked will open some of the settings you used to create this metric, specifically the date range dropdown, number of accounts, and the account type dropdown.
These settings will be available here within the dashboard as well as in the client portal if included in the client portal. Allowing your clients a more interactive element within a dashboard.
ARE YOU NOT CURRENTLY USING REACH REPORTING?
learn more at reachreporting.com
We are dedicated to helping you.
Reach Reporting is dedicated to helping provide a knowledge base that is easy to understand and informative. If you still have questions that have not been answered, please let us know by emailing support@reachreporting.com, chatting with our support team, or calling us at (877) 467-7637. We are here to ensure that you have a positive experience with Reach Reporting, as we want to continue to be the reporting solution you trust.
Need more access to Reach Reporting Resources?
Reach Reporting has a wealth of knowledge and a robust online community to support you as you create reports that provide powerful insight. Please look into the following resources.
Reach Reporting Blog: We add blogs to our site every month to give you great information in a fun and friendly manner.
Case Studies: We interview one company per month to help our clients highlight how they are using Reach Reporting and how it is improving their services and firm offerings. These case studies are invaluable to our community.
Knowledge Center: From simple to complicated, we provide step-by-step guidance to utilize every aspect of Reach Reporting in our robust knowledge center.
Video Tutorials: We know watching is sometimes easier than reading, which is why all of our tutorials are video-based in the video tutorial section of Reach Reporting and Youtube.
Social Networks: Join us on FaceBook, LinkedIn, Youtube, and Twitter.
Competitor Comparisons: We have looked at all the reporting solutions on the market. We provide you with an in-depth look at Reach Reporting compared to some of the strongest competitors out there on our competitor comparison page.
Monthly Newsletter: Go to the footer of reachreporting.com and sign up to receive the Reach Reporting newsletters delivered directly to your inbox. Our newsletters cover tips and tricks, current events in accounting, strategies to improve your advisory services, and much more.
We look forward to helping you build insightful reports,
The Reach Reporting Team.