Using Live Text in the Reach Reporting Builder This is a quick article on how to use live text within the Reach Reporting builder.
Use Live Text in the Reach Reporting Builder
Live text is the text that can be included in your report that will always stay up to date. For example, you can add "total income for last month." The live text will reflect the prior month's total income regardless of the date you create the report.
First, to add Live Text to a report, open the left menu and click on the icon for Live Text.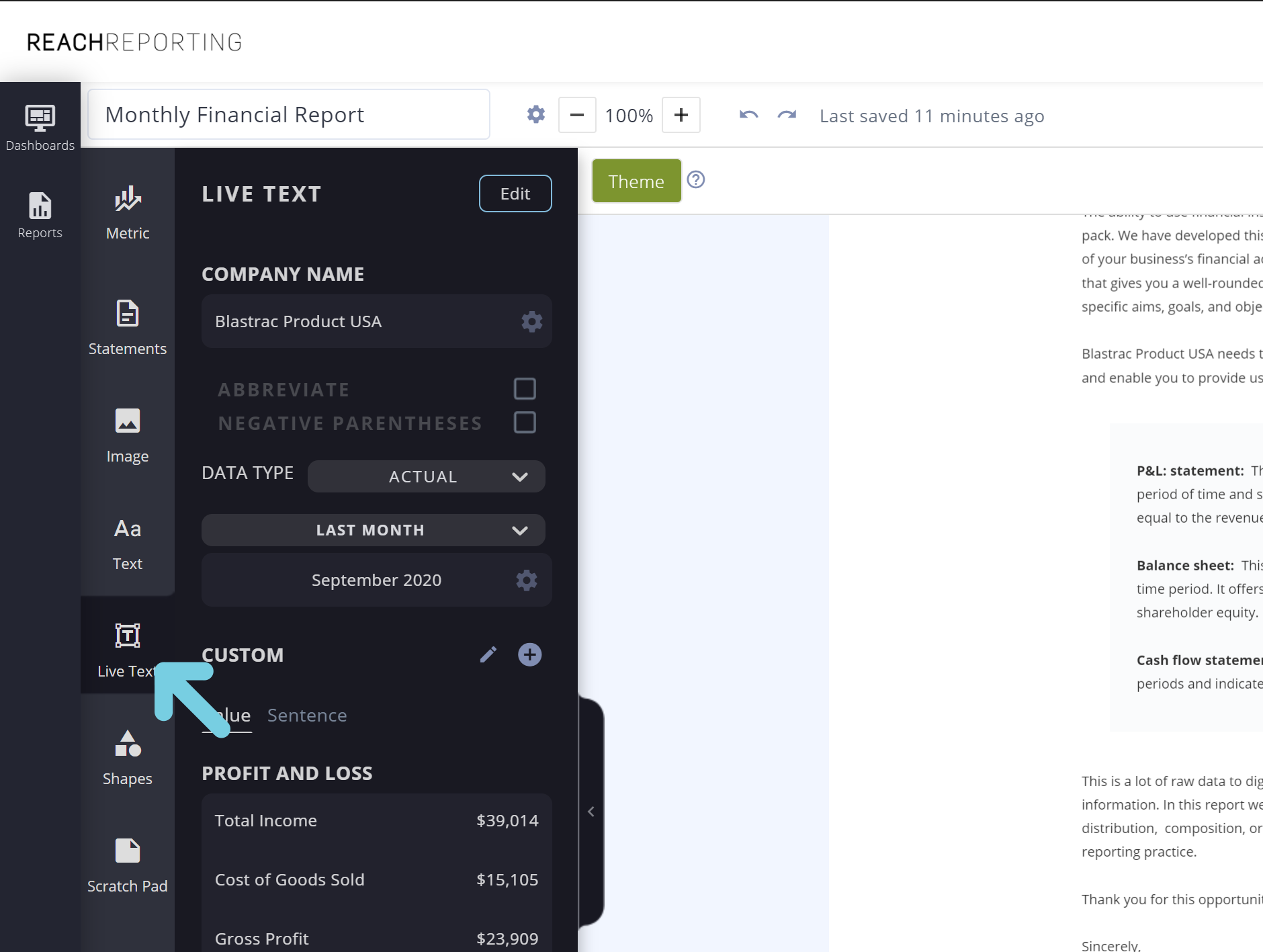 Right away, you notice the drop-down at the top is a date range. If you change the date range, all of the live text beneath will update to the updated date range.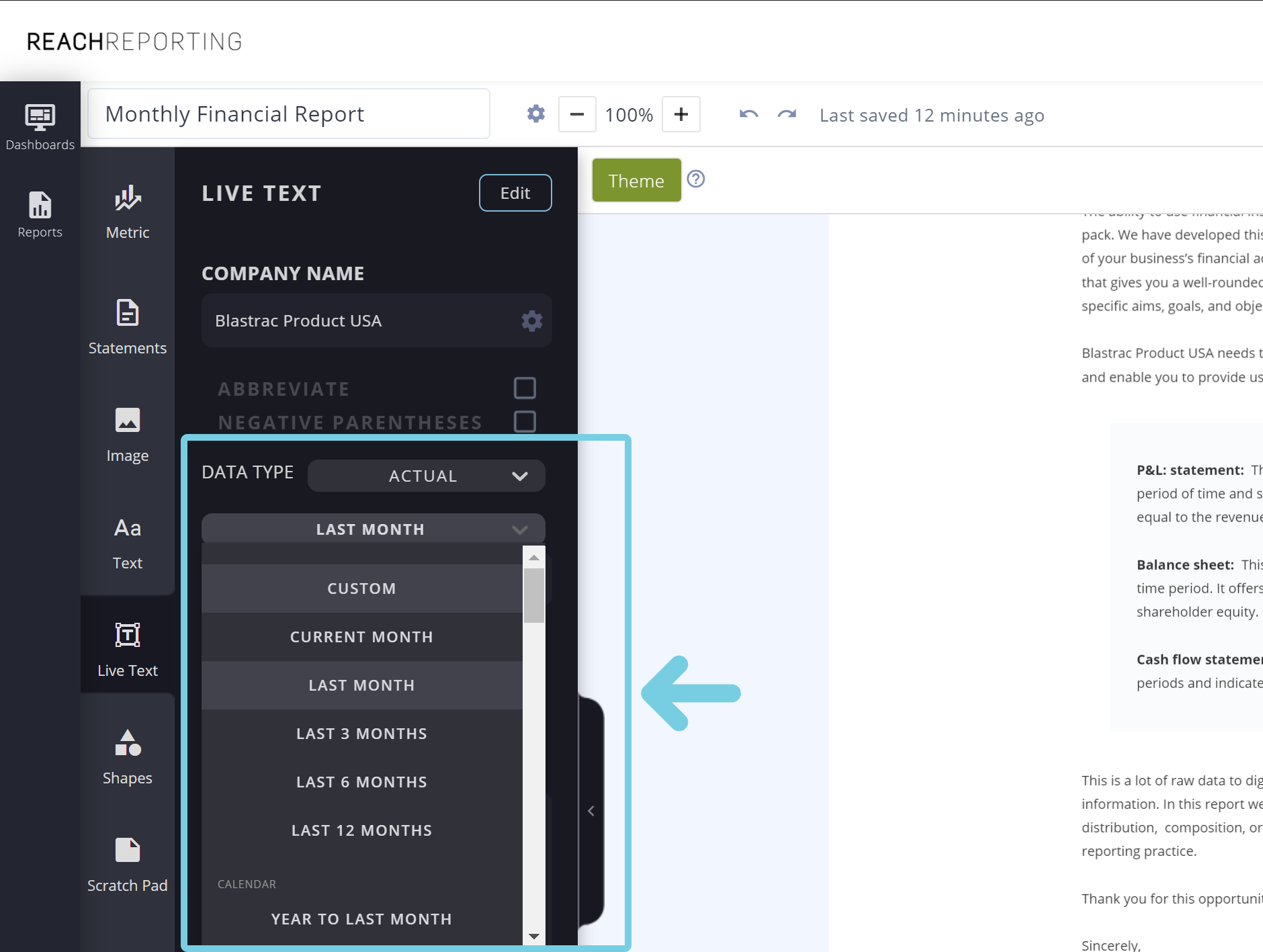 In the drop-down, you will choose your date range, or you can also choose a custom date range. All options are live text and will update each time.
You can choose to abbreviate the data and can format any negative numbers to display a parenthesis instead of a negative sign.
Once you have chosen your dates, click and drag the text. Release once it's on the page.
You can also drag the live text into an existing text box, and it will keep the formatting.
Second, now that the live text has been added, you can now format it the same way as other text.
You will notice when you click inside of the text box to edit, the live text will show exactly what is being used. When you click on the total income live text that it now shows the words "total income". You can also drag in the company name.
These features are useful when you are building a report that you want to use as a template for all of your clients. By doing this, the company name and data will always update the company that is being worked on.
Third, once you've included live text, if you want to modify it, select edit at the top right. This will show your current live text settings and will have options to edit font size, font, right indent, etc.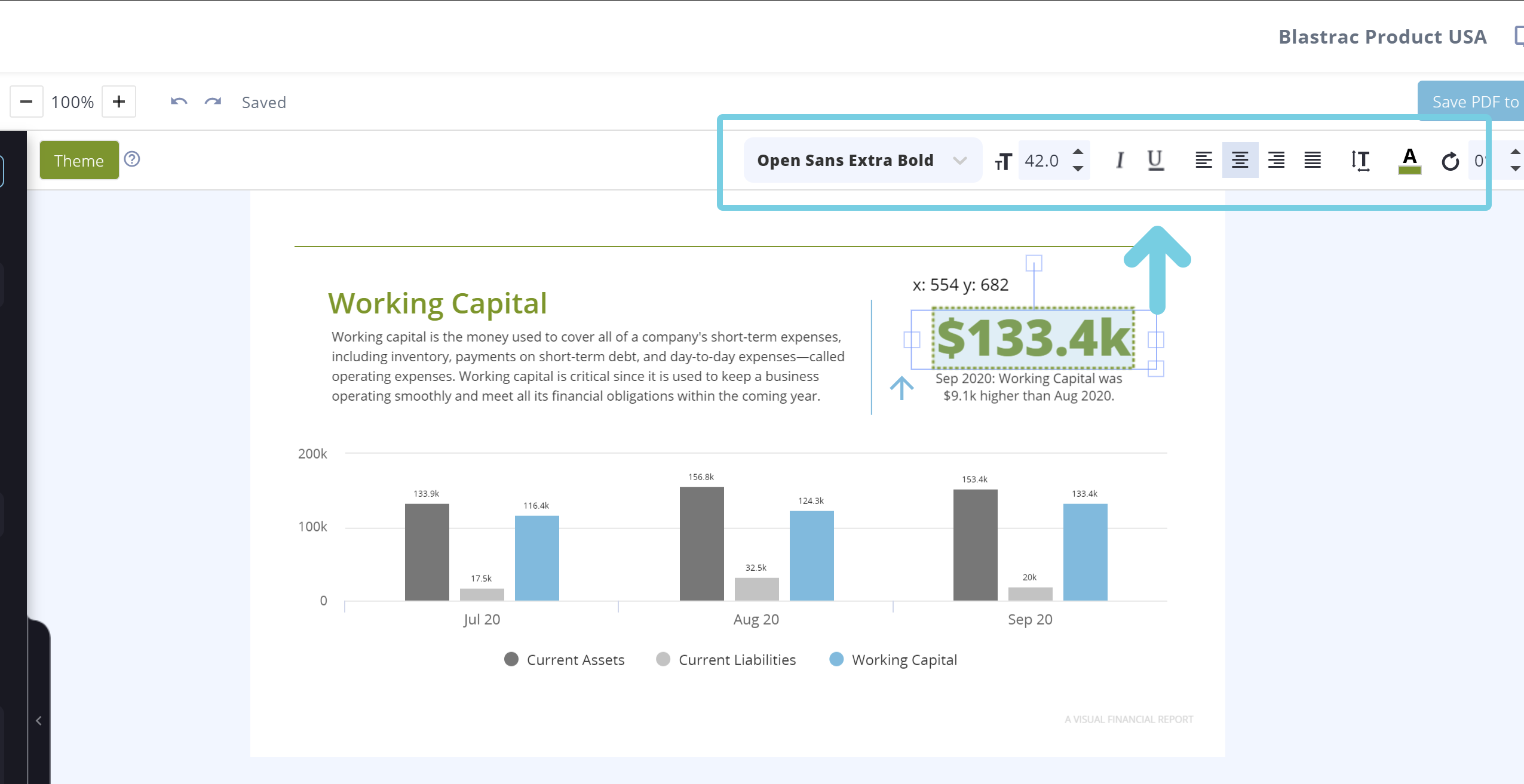 After the live text is added and you need to change the date range use the date override options. This will allow you to change the dates on any of the live text.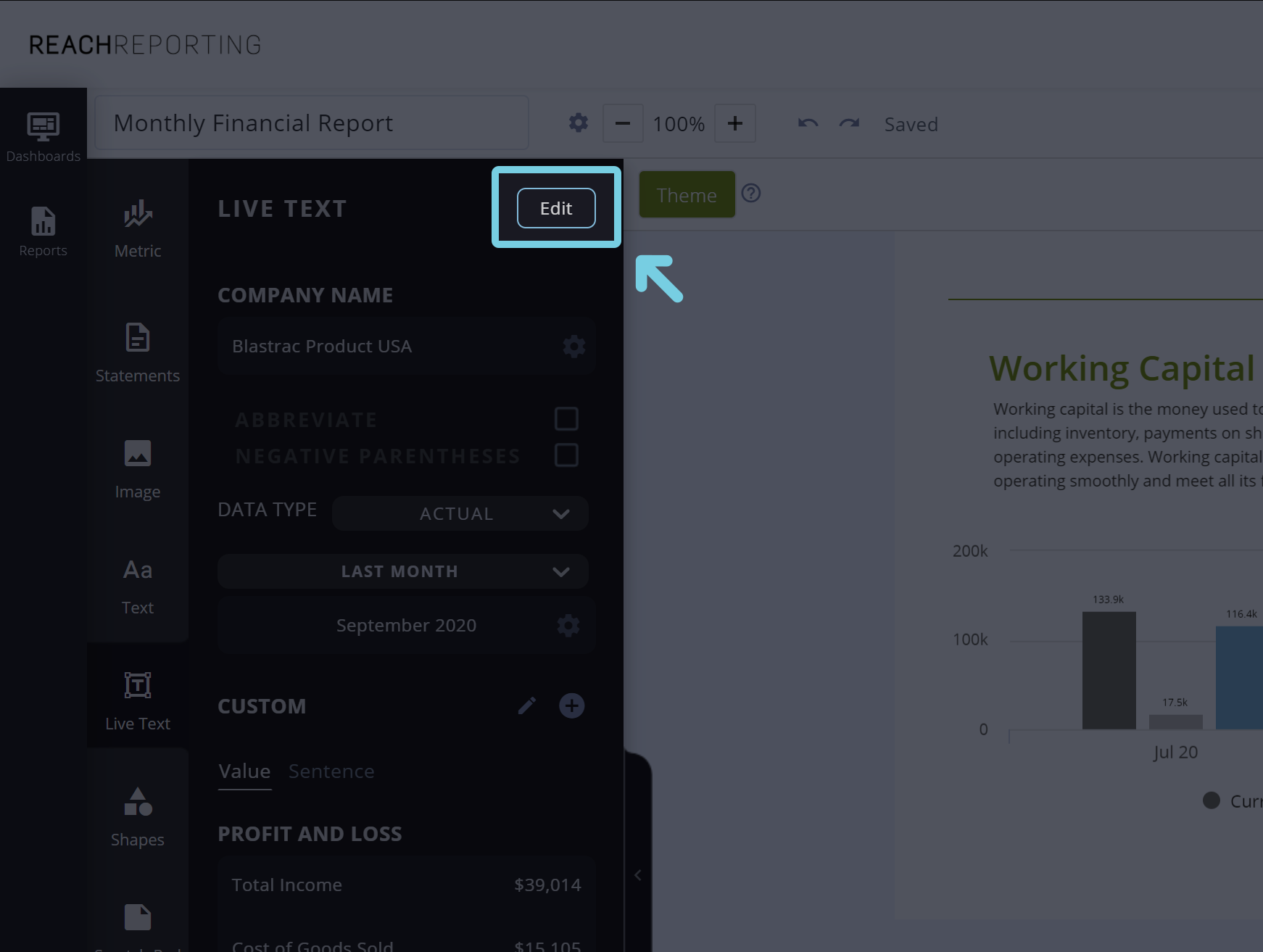 If you are using a lot of live text in a report, it's easiest to use the drop-down in the menu to narrow down the exact page where you are wanting to change the live text.
Simply check the box next to the live text that you want to change. Then select apply to selected, and the live text will update.
Once you are finished, click "Done" to exit the Live Text Settings.
Live Text behaves similarly to other text, so you can customize the format and also add it to your scratchpad to be used on other companies and reports.
See the video below for more information.
If you have any questions, please let us know.
ARE YOU NOT CURRENTLY USING REACH REPORTING?
learn more at reachreporting.com
We are dedicated to helping you.
Reach Reporting is dedicated to helping provide a knowledge base that is easy to understand and informative. If you still have questions that have not been answered, please let us know by emailing support@reachreporting.com, chatting with our support team, or calling us at (877) 467-7637. We are here to ensure that you have a positive experience with Reach Reporting, as we want to continue to be the reporting solution you trust.
Need more access to Reach Reporting Resources?
Reach Reporting has a wealth of knowledge and a robust online community to support you as you create reports that provide powerful insight. Please look into the following resources.
Reach Reporting Blog: We add blogs to our site every month to give you great information in a fun and friendly manner.
Case Studies: We interview one company per month to help our clients highlight how they are using Reach Reporting and how it is improving their services and firm offerings. These case studies are invaluable to our community.
Knowledge Center: From simple to complicated, we provide step-by-step guidance to utilize every aspect of Reach Reporting in our robust knowledge center.
Video Tutorials: We know watching is sometimes easier than reading, which is why all of our tutorials are video-based in the video tutorial section of Reach Reporting and Youtube.
Social Networks: Join us on FaceBook, LinkedIn, Youtube, and Twitter.
Competitor Comparisons: We have looked at all the reporting solutions on the market. We provide you with an in-depth look at Reach Reporting compared to some of the strongest competitors out there on our competitor comparison page.
Monthly Newsletter: Go to the footer of reachreporting.com and sign up to receive the Reach Reporting newsletters delivered directly to your inbox. Our newsletters cover tips and tricks, current events in accounting, strategies to improve your advisory services, and much more.
We look forward to helping you build insightful reports,
The Reach Reporting Team.