Import Accounting Data Via CSV Trial Balance New Ability to use Reach Reporting Through a CSV Upload: Available April 10, 2020
Upload CSV Financial data into Reach Reporting | Visual Financial Reporting
In a Trial Balance, any Balance Sheet accounts will show the ending balance of that month. For any Profit and Loss accounts they will show the cumulative ending balance of the fiscal year. Make sure to not show the activity or monthly change but the actual cumulative fiscal ending balance.
You can now connect a company through CSV. This feature was developed for advanced accountants who are typically using Excel or Google Sheets that export Trial Balance Data and then remap and regroup accounts. Reach CSV Import will upload both the Income Statement and the Balance Sheet.
First: Select "Add Company" and then choose the Upload CSV Trial Balance button.

You can download a CSV template and easily copy and paste your trial balance data or create a new tab in an existing spreadsheet.
Second: Follow these formatting rules;

*Columns A, B, D are mandatory.
*Column C allows you to have parents and sub-accounts.
*Column E - You must have the beginning of the monthly dates. You can begin in any month and then have the date range continue as shown above. The template you can download also includes this information. If your data is quarterly, or annually, enter the total trial balance for the applicable period. For example, put Q1 data as of 3/31/2020 in the monthly column.
*Column D The account Type list is shown below. You must only use these account types, so Reach is able to build your templates. Within Reach, you can always include other monthly data.

NOTE: Make sure you follow the standards of keeping your debits and credits formatted with the correct sign so that it is in balance. Reach will automatically change these so that they work in the financial metrics and statements. This means less work for you!
A list of how Trial Balance data is changed is shown below.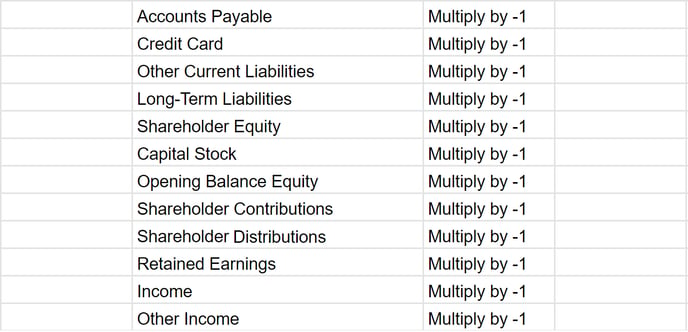 When you create multiple companies using the CSV upload, you can also use Consolidations within Reach Reporting.
As a Note: The trial balance does not include cash flow statement data so some pre-existing templates may be blank.
Did this answer your question?