How to Use Reach Reporting Statement Builder Using the Builder to customize a Statement.
How to Use Reach Reporting Statement Builder
Below are a couple of images to help you see the different abilities within the metric/statement builder.
Build Metrics and Statements
Add Custom or Date Range Columns
Filter by Class/Dept- on Columns and Rows available
Easily change column types
Show/Hide Columns and Rows
Sort ascending or descending
Map/Re-Arrange Rows
Format cells
Add Data/Account Rows/Reference Data-sheets.
Add Custom Rows
Perform Calculations
*Display Options - http://help.reachreporting.com/en/collections/2337887-metric-builder-statement-builder - Display Options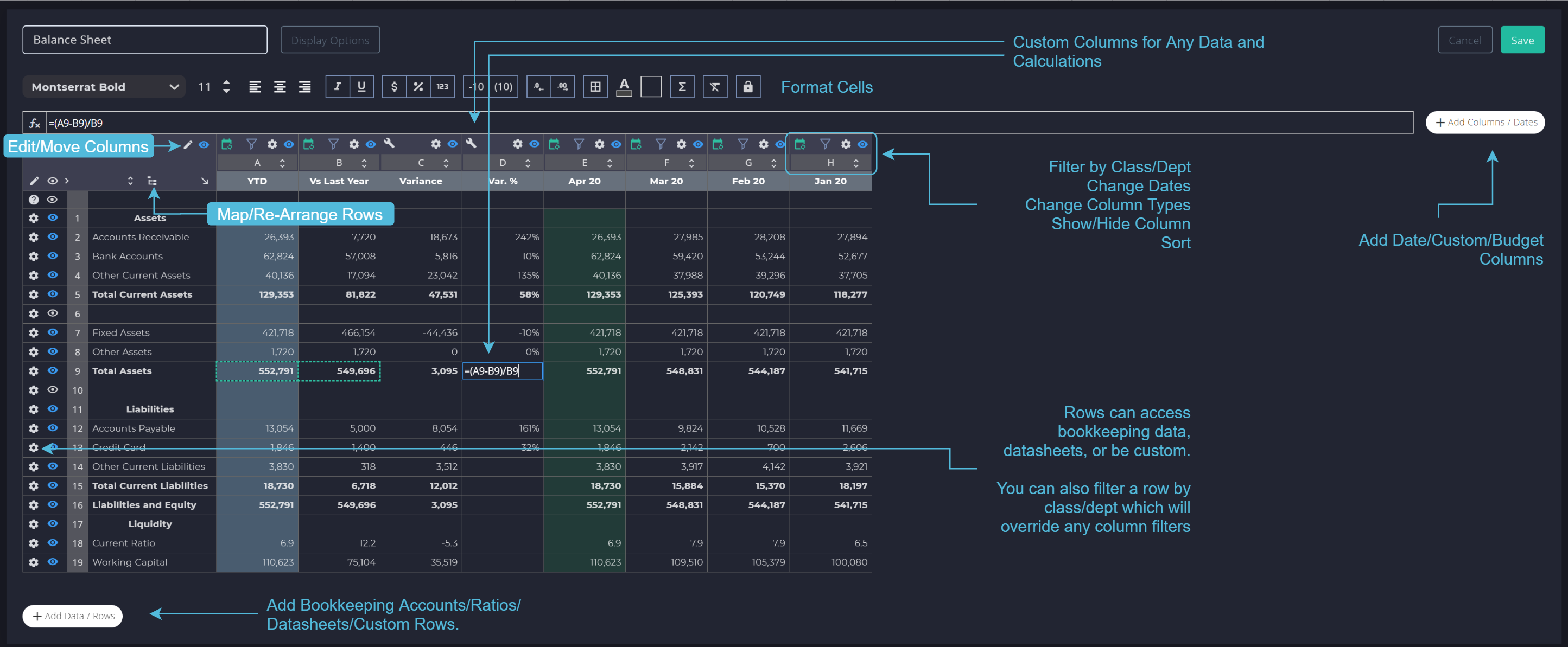 Depending on if it is a Metric or a Financial Statement, the additional setting options will be different.
If Statement
Set up Multiple Titles, Table Settings- hide zero accounts, striped rows, lines between columns, Disclaimers.
Statements in the report builder that go onto multiple pages will have the titles, headers, and disclaimer repeat on each page.

Locked vs Unlocked Statements
LOCKED
The locked statement simply means you are unable to add rows/data or re-arrange the rows. This is because the bookkeeping may change with added, deleted, or merged accounts. If the statement remains locked then all of those changes will update within Reach.
UN-LOCKED
If you unlock the statement, you can add rows/data and re-arrange rows/accounts. All the accounts existing will still sync and update.
When you do have account changes:
A solution to any changes to your bookkeeping would be to delete any deleted accounts by selecting the gear icon next to the account name. New accounts should be added by selecting "Add Data / Rows" at the bottom. Then use the mapping (arrange) tool to map the account where it should go.
When you first attempt to unlock a statement, a popup will appear with this warning:
Changing the row structure of a statement will cause it to not be updated if accounts are added or deleted in your bookkeeping. This cannot be undone.
This is just to let you know to make sure not to unlock the statement if you always want it to auto-update with any account changes.
Did this answer your question?