Adding Shapes in the Reach Reporting Builder Report builder: Shapes
Adding Shapes in the Reach Reporting Builder
This is a quick tour of how to add and use Shapes within the report builder.
First, to add a shape to a report, click on the icon for shapes and this will open the left menu.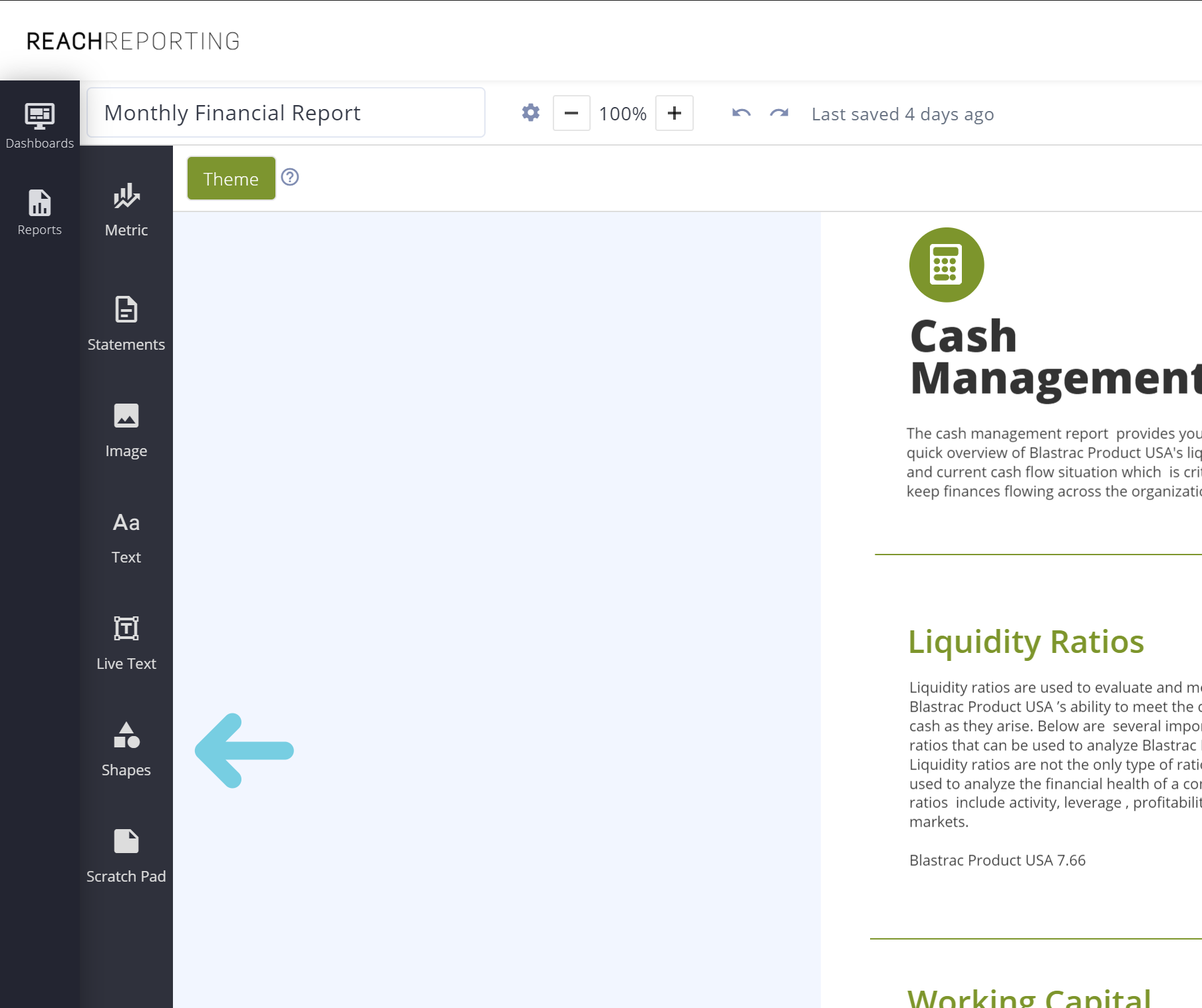 There are a few basic shapes that we can use to help design our report. You can see the options once you have clicked the shapes icon.
To add a shape or line to a report, click and hold while dragging it onto the report. Make sure it is fully on the page and then release your mouse and the image will populate.
Second, once the shape is in the report, you can move, resize, and adjust the color and transparency to your liking.
To move the location on the same page, click and hold then drag.
If you want to resize the shape simply drag from one of the corners. When reshaping lines, the lines will stay the same height but can be extended.
You have the ability to change the main color and outline color. If you want to adjust the opacity or transparency of the shape you can do that within the color picker.
When you click on a shape and have it selected, the top menu will update. Depending on the shape or line, the top menu will change to reflect what you can edit. As an example, with a square, you can round the corners, and also adjust the line width.

You have the ability to rotate either using the angle here, or you can drag the very top square of the selected shape to rotate.
By selecting Arrange, you can manage layers, the position on the page, and then adjust the location and the size. When you select a line, you will only be able to adjust the width in this section. You can adjust the line height in the top menu.

Lastly, you are able to adjust the layers and move content to the front (top) or back (bottom). For instance, if you want text on top of this shape, use the "arrange" button in the top right (see photo above). To bring the text box to the top, I can select the text box, and then select "Top".
Like other content, you can also add it to your scratch pad, lock the shape so it doesn't move, or delete.
Watch the video below for more detail and examples of adding and using shapes in the report builder. Any further questions, please feel free to ask.
Did this answer your question?