Adding Images in the Reach Reporting Builder Using images in Reach Reporting
Adding Images in the Reach Reporting Builder.
This is a quick tour of how to use Images within the reports.
First, add an image to a report, open the left menu, and select the icon for Image.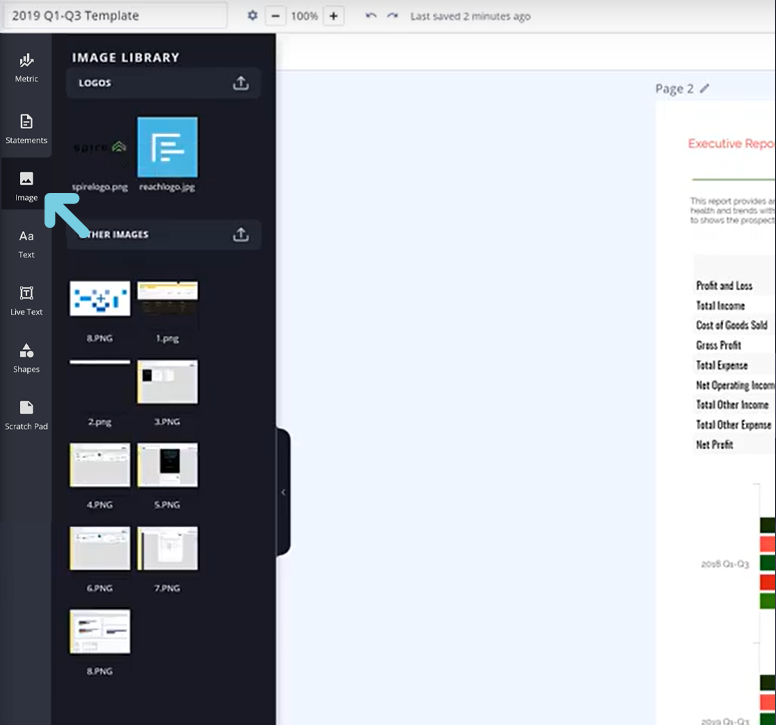 In this menu, you can upload multiple images to use throughout your reports. Any uploaded images are tied to your user login. Therefore, the image is available within other reports and other companies you have access to.
This way if you upload an image for your firm to use in your client reports, you would only have to upload that image once.
To upload an image, simply click the upload button

Once your image is uploaded, add it by clicking and hold while dragging onto the report.
Second, after an image is added you can edit it.
To move the image, click on the image and drag.
To resize, make sure you select the corners to maintain image ratio proportions.
When you select an image by clicking on it, you will notice the top-right menu changes to provide additional options.
With this menu you can;
*Change the opacity
*Change the angle
*Modify the layers
*Position of the image
*Add it to your scratchpad
*Lock the image so it doesn't move, or delete
You can play around with the design elements until you find exactly what you are looking for. Use the Undo/Redo if you need to revert back for recent changes.
Watch the video below for more information and please ask if you have any additional questions about adding images.
Did this answer your question?